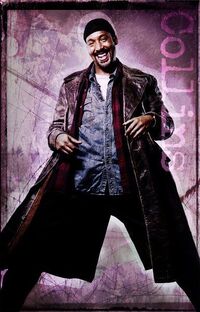 Tom Collins is a main character from the Broadway musical RENT. Collins becomes Angel's love interest after Angel finds him beaten up and helps him. (You Okay Honey?). Collins, like Angel, suffers from AIDS. He is also a college philosophy professor.
Collins is Mark and Roger's former roommate along with Maureen and Benny. He's back in New York after 7 months teaching at MIT.
He gets beaten up and while suffering from pain, Angel comes and helps him and sparks immediately fly between those two. (You Okay Honey?). Angel tells Collins that she has AIDS and Collins does the same.
Collins comes to visit Roger and Mark at the loft and proudly introduces Angel to both of them. After Angel's performance of Today 4 U, Collins asks Roger and Mark to come with him and Angel to Life Support which Mark agrees and Roger denies.
When Angel dies he takes it extremely hard, and he sings "I'll Cover You (Reprise)" at her funeral.
The loss that Collins feels after Angels death is amplified by the musical number "Seasons of Love".
He has AIDs. He teaches at NYU, and has a longing to open up a restaurant in Santa Fe with Angel. (Song: Santa Fe)
Ad blocker interference detected!
Wikia is a free-to-use site that makes money from advertising. We have a modified experience for viewers using ad blockers

Wikia is not accessible if you've made further modifications. Remove the custom ad blocker rule(s) and the page will load as expected.