Maureen Johnson
is one of the main characters in
RENT.
She is an outrageous, bisexual performance artist. She dated
Mark Cohen
before the events in
RENT
, but is in a relationship with 
Joanne Jefferson
, at the beginning of the musical. It is assumed that she left Mark for Joanne, though this is never explicitly stated.
Maureen is known for her inability to stay faithful to her lovers, including flirting with a number of other women while still dating Joanne, as well as taking advantage of Mark's remaining feelings for her. She is first engaged to Joanne before breaking it off in "Take Me or Leave Me". Afterwards, they decide to get back together in the song "Goodbye Love," in which Joanne expresses her longing to have the wonderful love Collins and Angel shared. She used to be roommates with Mark, Tom Collins, Benny Coffin, and Roger Davis, but she hates Benny. She mocks him in her metaphorical performance "Over the Moon", mocking his ignorance of his tenants' suffering.
Idina MenzelEdit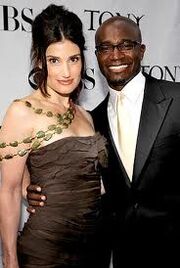 Idina Menzel
initially portrayed the role of Maureen Johnson on Broadway. She was nominated for a Tony for the role (Featured Actress in a Musical). She reprised the role in the film version.
She married Taye Diggs, who first played the role of Benny (and who also played him in the film version), in 2003. In March 2009 the couple announced they were expecting their first child together. Their son, Walker Nathaniel Diggs, was born on September 2nd of that year. In 2014, the couple announced their separation.
Eden EspinosaEdit
Eden Espinosa is the last Maureen that has ever been played in the Broadway show of RENT, and was featured in the film RENT: Filmed Live On Broadway
Nicole ScherzingerEdit
Nicole Scherzinger played Maureen in the Hollywood Bowl version of RENT.
Song List
Edit
Over the Moon
La Vie Boheme - with Company
La Vie Boheme B - with Company
Seasons of Love - with Company
Happy New Year A - with Mark, Roger, Mimi, Collins, Angel, and Joanne*
Happy New Year B - with Mark, Roger, Mimi, Collins, Angel, Joanne, and Benny*
Take Me or Leave Me - with Joanne
Seasons of Love B - with Company
Contact - with Company *
I'll Cover You (Reprise) - with Collins and Company
Goodbye Love - with Mark, Roger, Mimi, Collins, Joanne, and Benny**
Finale A - with Company ***
Finale B - with Company
(*=Removed from film version, **=Beginning of song only in film version ***=Her part/s removed from the movie, if still in movie)
Ad blocker interference detected!
Wikia is a free-to-use site that makes money from advertising. We have a modified experience for viewers using ad blockers

Wikia is not accessible if you've made further modifications. Remove the custom ad blocker rule(s) and the page will load as expected.